Housing Industry Honors Philanthropic Excellence with Hearthstone BUILDER Awards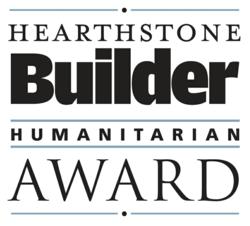 Washington, D.C. (PRWEB) February 17, 2012
Dan Wallrath, President, Wallrath Custom Homes and Virginia-based home builder Van Metre Companies have been designated as winners of the 13th Annual Hearthstone BUILDER Humanitarian Awards. To honor the winners and support their continued philanthropic efforts, the Hearthstone BUILDER Award Foundation will make cash contributions of $ 150,000 to charities designated by Wallrath and Van Metre Companies. The benefiting charities include Operation Finally Home, Capital Caring, and Children?s National Medical Center.
?This year, we recognize two of the leading lights in the builder philanthropic community,? said Boyce Thompson, editorial director of BUILDER. ?Dan Wallrath and Van Metre Companies have set examples for many to follow in the building industry and beyond. They join an esteemed group of leaders truly making a difference. We applaud them for their benevolence and dedication to their communities.?
Since 2000, the Hearthstone BUILDER Awards have celebrated the personal commitment of professionals across the housing industry to improve their communities through sustained contributions of time, resources, and financial support. Award winners are selected from an open call for nominations and reviewed by a panel of industry leaders. The 2012 recipients were honored at an awards reception last week at the International Builders? Show in Orlando, Florida. They are also profiled in the February 2012 issue of BUILDER magazine.
About the Hearthstone BUILDER Humanitarian Award

The Hearthstone BUILDER Humanitarian Awards were founded in 2000 by BUILDER magazine and preeminent institutional residential real estate investment firm Hearthstone which has made $ 12.7 billion of acquisition, development and construction financings over the past 20 years, to recognize and support the philanthropic work of those in the housing industry.
Since its founding, the Hearthstone BUILDER Foundation has contributed more than $ 4.7 million to various charities in the names of Hearthstone BUILDER Award honorees, making it the largest charitable award program in the home building industry. Receiving recognition from this program is among the industry?s most coveted honors. For more information about the program, visit http://www.BUILDERONLINE.com.
About BUILDER

Published by Hanley Wood, BUILDER is the leading brand in residential construction and serves as the magazine of the National Association of Home Builders (NAHB). For more than three decades, BUILDER has provided essential news, information and resources about products, technologies, trends, regulatory requirements and best practices to help home building professionals navigate challenges for success. With an integrated media platform encompassing print, online and in-person, BUILDER is a trusted source for top builders, architects and other industry professionals across the country. http://www.BUILDERONLINE.com
Hanley Wood, LLC, is the premier media and information company serving the housing and commercial design and construction industries. Through its operating platforms, the company produces award-winning magazines and Web sites, marquee trade shows and events, market intelligence data and custom marketing solutions. The company also is North America?s leading publisher of home plans. http://www.hanleywood.com
###
Find More Work Online Press Releases