"Journey's" Neal Schon and "Real Housewives of D.C." Michaele Salahi Sued by Her Ex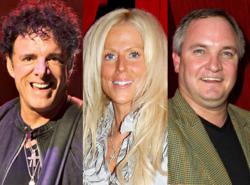 Los Angeles, CA (PRWEB) February 17, 2012
Explore Talent, a premier online social-network for talented individuals in the entertainment industry, announced a new blog on their news site today, titled, "'Journey's' Neal Schon and 'Real Housewives of D.C.' Michaele Salahi Sued by Her Ex." The blog on ExploreTalent, (http://news.exploretalent.com/journeys-neal-schon-and-real-housewives-of-d-c-michaele-salahi-sued-by-her-ex/) details that Michaele Salahi of Real Housewives of D.C. can't seem to get away from her ex, Tareq Salahi, according to E! News (2/15/2012). After leaving him for Jorney's Neal Schon, the new couple were both faced with a lawsuit, according to E! News (2/15/2012). Tareq Salahi served Michaele and Neal with a $ 50 million lawsuit because he believes he lost out on lots of cash due to their split, according to E! News (2/15/2012).
Although Bravo had announced that the reality show, Real Housewives of D.C., in which both Salahis appeared as a married couple, will not be renewed for any more seasons, Tareq claims that the couple was supposed to appear on Australia's Dancing With the Stars, according to E! News (2/15/2012).
Tareq explained that, in his view, his marriage was not a regular marriage, but almost a brand, which made him money, according to E! News (2/15/2012).
As explained in the suite Tareq filed, according to E! News (2/15/2012), "Through their concerted efforts [they] held themselves out as not just Husband and Wife but as business partners and further, a brand. They wrote a book together, made countless appearances together and were essentially inseparable in both their personal and business lives."
But why is Journey's Neal Schon also being sued by Tareq? That is also explained in the suit.
"Rather than being satisfied with stealing his wife, Neal Schon intentionally and maliciously began a public campaign to demoralize, embarrass and defame [Tareq] by publicly demonstrating that he could better provide material items for his wife," according to E! News (2/15/2012)
Explore Talent is a professional site that connects actors, models, musicians and dancers in the United States. The company posts blogs on their site so that members can stay up to date on celebrity news. The online community has been responsible for new collaborations and business ventures in entertainment. Explore Talent is responsible for countless models and actors getting acting auditions and modeling auditions by finding out about casting calls. Explore Talent also helps aspiring entertainment professionals further their careers with contests that showcase their profiles to members of the social media community. Furthermore, the Explore Talent site features celebrity videos, exclusive interviews with actors, actresses, and musicians, such as Joan Rivers, Usher, Akon and T-Pain.
Explore Talent's proprietary software and vast infrastructure is the most advanced entertainment-based technology of its kind. The site's popularity is based on the fact that there are many ways for talent to network, make friends and connect with other industry players, participate in wide variety of contests and earn prizes for being active on the site. The easy access to a pool of six and a half million members attracts industry players who are posting every month about 50,000 new auditions and job openings which is 30 times more than any other site.
For more information on this blog, or Explore Talent, go to http://www.ExploreTalent.com.
###