New Book, Igniting Your True Purpose and Passion, Explores Awakening the Creativity Within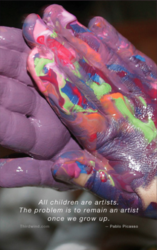 CARMEL, California (PRWEB) February 17, 2012
Best-selling author Robert Michael Fried, in this new book, Igniting Your True Purpose and Passion, states that, ?Creativity can come in many forms ranging from baking a wonderful deep-dish apple pie to rearranging your living room so you have more comfortable living space, to building a new Facebook page for your family. Creativity is like a muscle? we either use it or lose it.?
Fried?s approach to re-igniting ones creativity is pretty simple. ?Don?t put your creativity on hold! Don?t live life vicariously in the creative dreams of others. Stop telling yourself it?s too late. Unlock your own creativity?now. Let the creativity that resides deep within your veins flow freely. Regardless of how you do it, it?s important to reawaken the creativity that lies dormant within you. For instance, if you always wanted to learn how to play the guitar, take lessons now. If you always wanted to paint, buy some paint, brushes, and an easel and start painting. If you always wanted to be a mentor, find somebody who needs mentoring. If you always wanted to be a dynamic speaker, get in front of an audience. If you always wanted to be a gourmet cook, take some cooking lessons or invite a few guests over to try your new recipe for eggplant Parmesan. If you always wanted to climb mountains, start climbing. If you always wanted to write a book or screenplay, start pounding those keyboards.?
According to Fried, it?s important to first visualize your creativity and then unleash it to the outside world. Animator Huck Jones says that in order to draw a coyote ?you have to have a coyote deep within you and you have to get it out.? The people who carve Buddhist figures often claim they look for the Buddha deep inside the wood. In Fried?s opinion, ?You?re only a creative person when you are willing to share your creativity with the outside world. In short, feel the fear and unleash your creativity anyway. When your creativity bubbles to the surface, it unleashes an explosion of new ideas, directions and paths that can have a lasting and positive impact on your life.?
Here are Robert Michael Fried?s ?Seven Jumpstarts to Unleash Your Creativity to the Outside World":
1. Rekindle your child-like wonderment ? Let your creative spirit flow without worrying about peer pressure or criticism. Remember what it was like when you were a child and just starting to etch your finger paintings on the fridge. Rekindle the curious beginner?s mind you had as a child.
2. Envision the end result ? Before you start to write, paint, sculpt, make a chocolate cake, or hang the beautiful drapes you just made, have a vision of what you want to create first.
3. Use it or lose it ? Creativity is like a muscle, if you don?t use it you?ll lose it. If you?ve always wanted to paint ?get started and paint. If you always wanted to write, pound the keyboard.
4. We are all creative equals ? Remember: you don?t need to write a bestselling book or hit number one on the musical recording charts to be creative. You can be creative by decorating your living room, planting a garden, cooking a gourmet meal, creating business solutions, or solving a problem within the family. Bring creativity to your daily living ? no need to wait for the sound of the trumpets to arrive.
5. Don?t wait for perfection ? Any screenwriter will tell you that no movie script is ever finished? they just ran into the deadline. Ask yourself: ?what would I do if I didn?t have to do it perfectly??
6. Handle the heat ? Remember you?re never as good or bad as people say you are. Handling criticism and having to confront your fears is an integral part of the creative process.
7. Celebrate! ? Learn to celebrate both big and small things. Like writing a chapter of your book or learning a new guitar cord or getting an ?A? on your exam. Take a step back and reward yourself by smelling the roses of your accomplishments.
Robert Michael Fried is co-founder of Thirdwind; a company dedicated to helping people achieve true success by making meaning as well as money. He is the best selling author of