San Jose Kitchen and Bath Remodeling Expert, Medina Home Repair Announces Discounts on Remodeling Services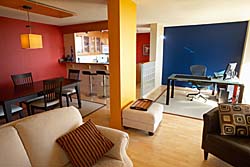 San Jose, CA (PRWEB) February 10, 2012
San Jose?s kitchen and bath remodeling company, Medina Home Repair hopes homeowners who are looking to remodel their homes with a new look this New Year will turn to it for expert home and remodeling work. As an incentive, Medina Home Repair is currently featuring 10-percent off all its remodeling services, from home painting to window installation and everything in between. Give homes the focal point they deserve with a newly remodeled kitchen or replace the home?s water heater to save money. At Medina Home Repair, customers are guaranteed affordable prices and high-quality installations and repairs.
?Give your home an exciting new palate and a fresh new look with fantastic home painting services from Medina Home Repair. Inside or out, nothing makes an impact on your home?s look like new paint. Home painting is often one of the easiest and most affordable ways to make your home look great,? owner Jose Medina of Medina Home Repair said.
Medina Home Repair serves the entire South Bay Area including San Jose, Campbell and Milpitas. They repair, replace and upgrade just about anything a home could need, as well as specialize in home painting, window installation, and kitchen and bathroom remodeling.
For a free estimate or for more information about any of Medina Home Repair?s products or services, view the company on the web at http://www.sanjosecakitchenremodeling.com/ or call 408-514-5308.
About Medina Home Repair
Medina Home Repair is the best solution for all home repairs and remodeling needs in the entire South Bay Area, including San Jose, Campbell and Milpitas. They offer a variety of services, including custom painting, kitchen and bath remodeling, window and door installation, tile and ceramic installation, sheet rock and texture, fencing and decks, popcorn-ceiling removal, water heater installation, hardwood floor refinishing, electrical repair, crown molding, roof repair, plumbing and more.
###