The Krazy Coupon Lady Expands Money Saving Tips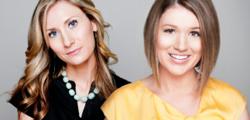 San Diego, CA (PRWEB) February 17, 2012
Millions of people across the nation flock to the The Krazy Coupon Ladies, for advice on saving money on groceries and household items. But now, the extreme couponing experts are finding and sharing savings tips on everything from clothing, to furniture and more.
?What good is saving all that money on groceries when you?re going to turn around and blow it on other areas?? asks Heather Wheeler, Krazy Coupon Lady co-founder. She and her coupon cohort, founder Joanie Demer agree: ?In this economy, you can maximize every dollar by following a few smart steps. And, who can?t stand to save another dollar or two??
The Krazy Coupon Ladies will add the following categories to their money-saving website:
Style- Love Joe?s Jeans and Tory Burch flats? The KCL?s know how to get the look for less. Why spend up to $ 500 a day at a salon when you can do many of the same treatments at home?
At Home- Readers will be saving in the suburbs with posts such as the ?Knockout Knockoffs?: Best furniture and home d