Digital Marketer Offers Help to Those Asking ?How Can I Get Published??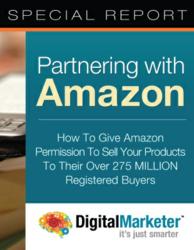 Austin, TX (PRWEB) March 29, 2012
People who have asked themselves ?How can I get published?? are in store to be shocked at how easy it can be. There?s a way to avoid the typical, big-business publishing world and go about self-publishing e-books, essays, reports, and even pamphlets with the greatest of ease. An article from earlier this week on DigitalMarketer.com said all this and more can be done with Amazon, the ultimate web content and retail center and home to one of the largest collections of credit card numbers anywhere.
The Digital Marketing Labs are sharing their expert advice in the form of a Special Report entitled ?Partnering with Amazon: How to Give Amazon Permission to Sell Your Products to their Over 275 Million Registered Buyers.? Subscribers will get a full understanding of selling and publishing with Amazon and gain insight on the miraculous marketing advantages awarded by the mammoth e-commerce website.
Self-publishing with Amazon can be done in a variety of ways, depending on the needs of the content and the capabilities of the seller. The article suggested Kindle Direct Publishing as one way, because it develops written content for e-readers. Going digital has become a smart move for emerging writers; it makes content instantly available to consumers and cuts down on book printing?s carbon footprint. ?Partnering with Amazon? covers Kindle Direct Publishing along with the site?s other offered services.
Along with its trove of registered customers, the group of self-publishers and sellers on Amazon has increased mightily. Amazon has helpful ways for every entrepreneur to publish and offer their material online, and gives them a chance to access the biggest online marketplace in the world.
Not only are sales done efficiently and securely, but the positive site traffic and page rank effects will blow away any other marketing method. The DigitalMarketer.com article said Amazon has such a strong web presence that anything located within its pages gets an instant boost in search engine recognition.
Since Amazon has become to go-to place for any online shopper, getting items on the site instantly increases the odds of making money. Learning how to sell self-published books on Amazon will increase online clout and authority, plus it can help any business or personality earn credit in their specific industry.
The next time the question ?How can I get published?? comes up, count on ?Partnering with Amazon? to provide the answers.
Digital Marketer releases reports to help businesses and entrepreneurs gain insight and information on the trends, data, and strategies that can take them to the top of their industry. Through training courses, strategic plans, blogs, and reports like this one, Digital Marketer assists anyone in their business-building needs.