Golden Apple Award Winner Rita Allen Shows Compassion In And Out Of The Classroom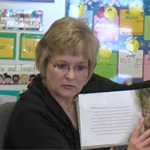 Draper, UT (PRWEB) February 17, 2012
The School Supplies Gift Program, sponsored by Utah-based Christensen Law Firm, PLLC, is pleased to announce that Mrs. Rita Allen, a kindergarten teacher at Wellsville Elementary in Cache Valley, UT, is this week?s recipient of the Golden Apple Award.
Mrs. Rita Allen has taught elementary school for 29 years, 22 of which have been taught at Wellsville Elementary. She recently became well known throughout Utah because of her dedicated teaching practices that were noticed and aired on KSL Channel 5. KSL reported that Mrs. Allen had a student, Spencer Felt, who had missed class for 3 months due to illness. In late September, the 5-year-old boy complained of not feeling well, was taken to the hospital, and was later told that a heart transplant would be necessary. This dramatic change in the boy's life has rocked the foundation of his community, including Mrs. Allen. She never forgot him. She would reserve a chair in the classroom for him and often drive the long-distance to Salt Lake in order to visit Spencer in the hospital.
When Mrs. Allen was asked why she focused so much on Spencer, she explained to KSL, "Because I'm his teacher, and he's my student." She continued, "I know his family's heartache. I knew of the suffering he was going through, and I wanted him to know his teacher cared about him still ? that he could still learn even though he was in a critical situation."

Over the past 29 years of teaching, Mrs. Allen has roughly taught more than 1200 students. Her impact has truly been felt throughout her community. She also mentioned that because of the KSL story, many kind individuals had sent donations to her and her class, including an iPad and other monetary donations. She mentioned how grateful she was for the support and wished that it would continue for the Felt family. She expressed her concern that the medical bills would mount and that the Felt family could use donations as well. She never stopped thinking about others.
The sheer commitment to her students and her ability to reach the hearts of Utah residents is why she has been awarded the Golden Apple Award from the Christensen Law Firm. As she mentioned, the $ 100 OfficeMax gift card will go to supplies for her classroom, which will allow her to have the materials needed to teach her students.
About the School Supplies Gift Program

Ken Christensen and Russ Hymas, owners of the Christensen Law Firm, recently started the School Supplies Gift Program to help public school teachers get extra classroom supplies without having to spend their own money. Each week the program gives the Golden Apple Award, a $ 100 OfficeMax gift card, to a deserving Utah public school teacher and his/her class. Anyone can nominate a teacher for this program, including teachers, students, parents and administrators. To learn more about the program and nominate a teacher, click here.
###
Related Extra Money Press Releases