UPside Visa Named Winner in Sixth Annual Paybefore Awards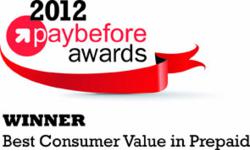 New York, NY (PRWEB) January 31, 2012
Plastyc announced today that Paybefore has chosen UPside Visa as a 2012 Paybefore Awards winner in the Best Consumer Value in Prepaid category. Paybefore Awards, now in its sixth year, is the most prestigious recognition of excellence in the worldwide prepaid and stored value card industry. The awards are presented annually by Paybefore, whose publications are the leading source of industry information for the global prepaid community.
"Plastyc's mission is making premium financial services easy and affordable for the underbanked. Since last year, we have enhanced our UPside Visa service with innovative new capabilities. We're thrilled that once again, the industry experts at Paybefore are highlighting our ground-breaking work in prepaid," said Plastyc CEO Patrice Peyret.
UPside Visa was selected by a panel of five industry experts who served as judges for this year?s competition, which?once again?included entries from around the world.
?Paybefore Awards was created to honor the companies and individuals that are keeping prepaid on the cutting edge of payments,? said Loraine DeBonis, Paybefore editor-in-chief and chair of the judging panel.
?Our industry continues to break new ground and expand the reach of electronic payments because of companies like Plastyc who make innovation and execution a priority,? she continued. ?We are proud to recognize its contributions to advancing the prepaid industry.?
?Prepaid is the fastest-growing area of payments because it addresses unmet payment needs of consumers, businesses and governments,? added Marilyn Bochicchio, Paybefore?s CEO. ?Paybefore Awards recognizes the creativity of prepaid practitioners in developing programs that address these needs more effectively than cash, checks or even other types of payment cards.?
In the past year, Plastyc has enhanced its award-winning UPside Visa with programs that help customers automate tuck money into savings, offer discounts at pharmacies and make it easier to load cash into prepaid accounts. The enhancements are enabled by Plastyc's sophisticated technology platform and support its mission of making premium financial services easy and affordable for the underbanked.
UPside Visa now will vie for best-in-category distinction, which will be announced during the Paybefore Awards ceremony on March 12 at the Prepaid Expo USA (http://www.prepaidexpousa.com).
About Plastyc

Plastyc delivers good banking to all by providing 24×7 access to FDIC-insured accounts through any Internet-connected computer or cell phone. Unlike traditional checking accounts, Plastyc's iBankUP portal and UPside cards never incur overdrafts, and they offer better services at lower prices, with more ways to receive money and no risk of over-spending it. Plastyc's principals and directors have a track record as financial services innovators at companies including Gemalto, Oberthur, Signio (now part of PayPal, an eBay company), ClairMail, Lending Club, and Genetic Finance. Plastyc is privately held with headquarters in New York City. For more on Plastyc, visit http://www.plastyc.com.
About Paybefore

Paybefore is the leading information provider to prepaid and stored value industry professionals, offering the latest news, commentary and analysis. Paybefore?s family of industry publications include: Paybefore.com?, a searchable online news and information portal; Paybefore News?, daily news briefs delivered electronically; Paybefore News International?, a weekly compilation of prepaid news and events from outside the United States; Paybefore Update?, an e-newsletter delivered 20 times a year; Paybefore Legal?, a downloadable e-newsletter covering the legislative, regulatory and judicial developments in prepaid, as well as feature articles by leading attorneys in the field; Paybefore Magazine?, a biannual print publication featuring in-depth articles on the opportunities, challenges and trends in the global prepaid and stored value industry; and the only industry directory, Paybefore Buyer?s Guide?, available online and in print. Visit us at http://www.paybefore.com.
###